0 2019 D-Marin ORC World Championship starts tomorrow
by

Team Racing-Yachts.com

31-05-2019
Your vote is:
0.00 of 0 votes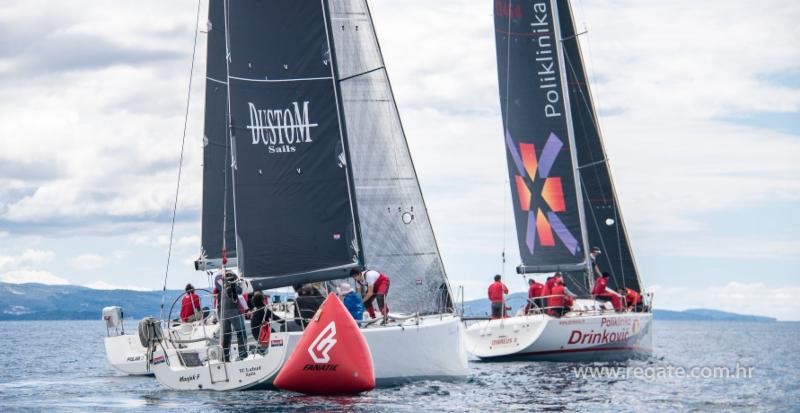 Impressive turnout of 113 entries from 17 countries to compete in 8 inshore and offshore races held over 3-8 June
Sibenik, Croatia - D-Marin Mandalina, Sailing Club Val and the Offshore Racing Congress (ORC) are pleased to welcome 113 teams of competitors from 17 nations to the 2019 D-Marin ORC World Championship. The event runs over 31 May - 8 June and is based in the beautiful and historic town of Sibenik in Croatia, with race course areas set to the west among the adjacent islands of the famous Dalmatian coast.

After measurement and registration is held over Friday-Sunday, 31 May - 2 June, then racing begins on Monday 3 June with the long offshore race finishing on Tuesday 4 June, followed by two days of inshore course racing on Wednesday-Thursday, 5-6 June. Friday 7 June will be a short offshore or coastal race, and racing concludes on Saturday 8 June with more inshore racing and the Prizegiving ceremonies in the evening.

This large fleet will be divided based on boat size and speed into three separate classes that will be competing for three separate ORC World Championship titles. Class A has the largest and fastest yachts in the fleet, and features 14 teams from 8 countries. Among these are some veteran teams who are not strangers to ORC Worlds competition, such as:

- Marco Sarafini's TP52 XIO: Gold medalist in the 2013 Worlds in Ancona, Silver medalist the next year in Barcelona, and in the top five in the light air Worlds in Trieste in 2017;
- Sandro Paniccia's Scuderia 50 Altair 3: this team in Trieste lost the Bronze medal in a heartbreaking tiebreak in an extremely close series where the top four boats were separated only by 4 points...this team was one of the first to register for this regatta and will be hungry to avenge that loss for a better finish on the podium;
- Roberto Monti's TP52 Air is Blue: this team campaigned their GP42 Airis for years in the MedCup series, then earned a Bronze medal at the 2012 Worlds in Helsinki before switching to a modified Melges 32 to win Gold in Class C in the Trieste Worlds. Their latest switch to a TP52 for this event will be most interesting to watch.

In Class B the challenge will be not only the numerous past champions in this class, but the size of the class itself: at 49 entries from 10 countries, this is one of the largest turnouts in Class B competition since ORC World championships started two decades ago in 1999. Some notable entries in this class include numerous contenders from the 2017 Trieste Worlds:

- Massimo de Campo's Swan 42 Selene Alifax, who will want to improve on their Silver Medal performance in Trieste to get Gold here in Sibenik;
- Nadia Canalaz's M45 Horus skippered by Furio Benussi will also be a strong rival, having been beaten by Selene Alifax by 10 points to settle for Bronze medals in Trieste;
- Diego Zanco's X-41 Nube skippered by Mate Arapov is one of the stronger local-based Croatian teams, finishing just off the podium in fourth place in Trieste;
- Enrico D'Angelo's Arya 415 Give Me Five skippered by Massimo Pagliarin was fifth place in Trieste, but only on a tie-break with Nube;
- Nicola de Gemmis's Grand Soleil 39 Morgan IV, whose team won Bronze medals at the 2014 ORC European Championship in Valencia, Spain and who finished third in the overall standings in last year's UVAI season championship series, may also come through the pack.

As usual, Class C is the largest at the Worlds, and has this year been capped to 50 entries to allow races managers to handle the large crowds on their course area. This has been a battleground for existing production racer and racer/cruiser designs, but also several custom designs introduced in the last several years, with this year being no exception, with many following with interest the following entries:

- Ott Kikas's Sugar skippered by Sandro Montefusco combines a seasoned and successful mixed Estonian and Italian crew who have been on the podium in numerous past ORC European championships (eg, Silver in 2017 in Gdansk, Poland, Silver in 2016 in Porto Carras, Greece, Silver in 2015 in Parnu, Estonia, and Gold in 2013 in Sandamn, Sweden) with a brand new platform, the Polli-designed Italia 11.98;
- Aivar Tuulberg's custom Cossutti-designed Katariina II is another team of mixed Estonian and Italian talent, and are the reigning ORC European Champions, a title they also earned in 2016 in Porto Carras. They have reportedly made modifications to their boat over this past winter to be even more competitive, since a podium finish at a World Championship has still eluded them some would say they are overdue for this level of results;
- Rudolf Vrestal's Italia 9.98 Giulia from the Czech Republic made the long trip to Cyprus at last year's ORC Europeans and collected Silver medals for their efforts in Class C. They will be keen to repeat this result or better on the podium in Sibenik.

"Over the past four years we have organized numerous international regattas in Croatia, with the strategic direction of promoting sailing sport in the destinations we work in. We are exceptionally proud that we are the general sponsor of this great sporting event and we are delighted that this sport will bring good wind in Sibenik's sails next week," said Burak Baykan, CEO of D-Marin Group.

"This is a impressive field of competitors coming to Sibenik, its great to have a World Championship once again exceed 100 entries," said Bruno Finzi, Chairman of ORC. "We are very grateful for the hard work put in by the organizers at Sailing Club Val, D-Marin Mandalina and our own technical and promotional team at helping efficiently organize a group this large so that the teams can focus on their sailing and having a good time once they arrive. We expect a good range of conditions and race formats throughout the week so that the teams on the podium at the end of the week truly represent the best offshore handicap sailors in the world."

Since 1969, ORC has been a world leader in providing a scientific and transparent rating system used to create fair racing among a broad variety of boat types, from Sportboats to Superyachts. Nearly 10,000 ORC certificates were issued to boats from 45 countries by 35 ORC national rating offices in 2018. Since 1999 ORC has organized annual ORC World Championships, in 2018 a combined IRC/ORC Offshore World Championship, and other inshore and offshore racing events sanctioned by World Sailing, with recent events attracting over 100 entries from dozens of countries around the world.