0 ORC European Champion 2021 sets off with offshore race
by

Team Racing-Yachts.com

15-05-2021
Your vote is:
0.00 of 0 votes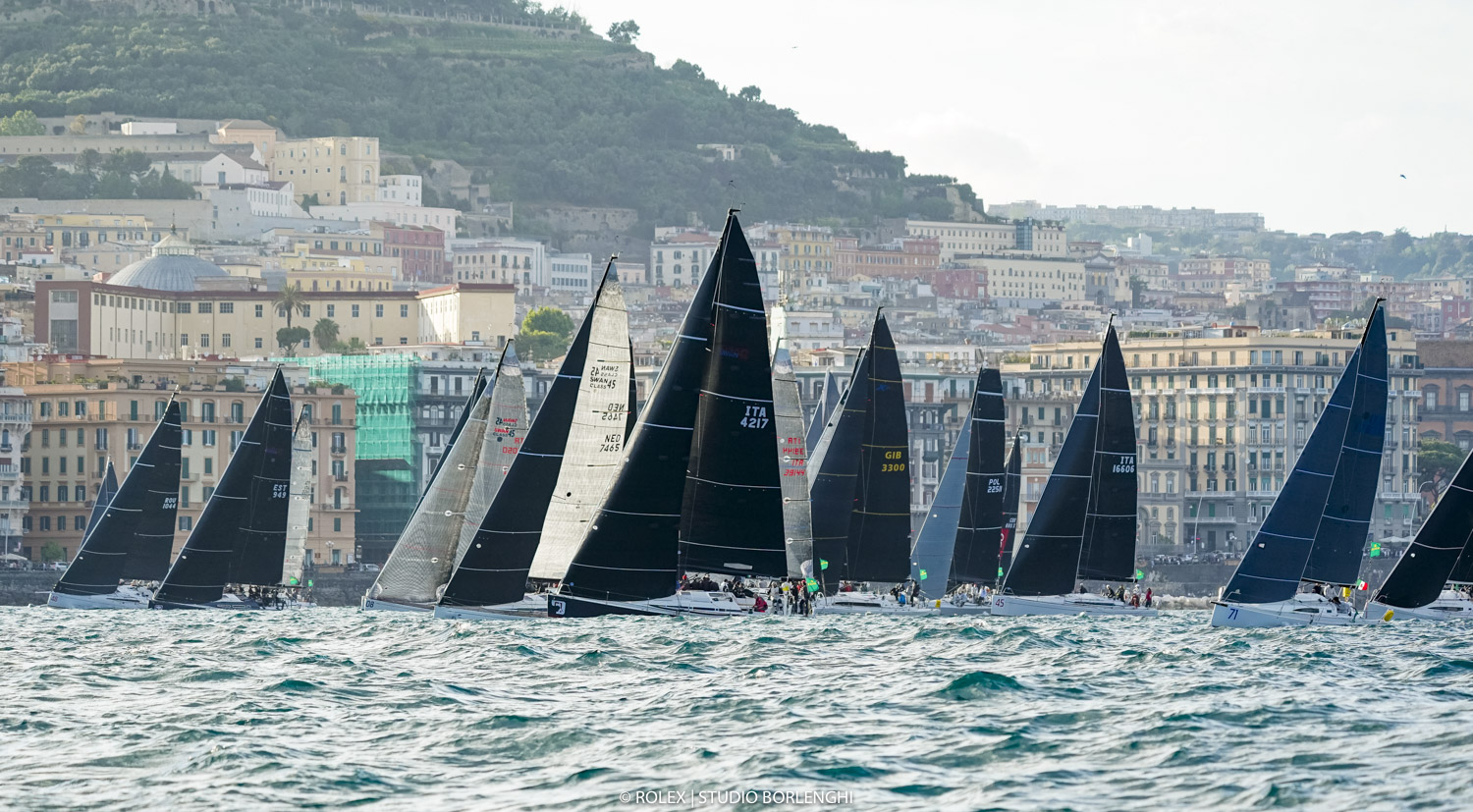 The 66th edition of the Regata dei Tre Golfi gets underway.
A record fleet of over 110 boats took to the starting line off Borgo Santa Lucia in Naples for the first race of the ORC European Championship
The Circolo del Remo e della Vela Italia was bustling with preparations today, Saturday 15 May, for the 7 p.m. start of the Regata dei Tre Golfi. The offshore competition represents the second stage of the Rolex Capri Sailing Week, and the 150-mile race set off on time at 7 p.m. with perfect conditions in the Gulf of Naples. The breeze of around 15 knots rotated from westerly to north-westerly and should accompany the fleet for a long upwind leg to round the island of Ponza, the northernmost summit of the Tre Golfi course. The fleet has been divided into two main groups, with the first start for boats competing in the ORC European Championship, and the second, at 7:30, for all other participants.
Given the current weather picture, the fastest yachts are expected to complete the course in 20 to 24 hours, with a few favourites tasked with living up to this estimate. Among them are the maxi yacht Pendragon from the LightBay Sailing Team, owned by Carlo Alberini (with Slovenian tactician Branko Brcin), Kuka 3, the Cookson 50 owned by Franco Niggler with a highly experienced crew boasting Pietro D'Alì, Ambrogio Beccaria and Nello Pavoni to name but a few. Among those sighted on the docks, a special mention must go to the Mylius 18e35 Frà Diavolo, owned by Vincenzo Addessi and with Andrea Fornaro calling tactics. Fresh from victory at the Maxi Yacht Capri Trophy, Addessi must maintain his winning streak in order to claim the Rolex Trophy, which will go to the yacht with the best combined score from the MYCT and the Tre Golfi.
A range of nations are represented in the fleet of performance yachts competing for the ORC European Championship. The boat to beat here is reigning world champion Sugar 3, the Italia Yachts 11.98 owned by Ott Kikkas, with Sandro Montefusco at the helm and a tried and tested crew including Paolo Montefusco, Maurizio Loberto, Paolo Bucciarelli and Matteo Polli, the boat's designer.
The course
From the start off Naples, competitors will race to Ponza before returning to round the Li Galli islets off Positano. The fleet will cross the finish line in Capri, after approximately 150 miles of racing.
The fleet competing in the ORC European Championship will have until Monday 17 to complete the offshore race, making their base then in Capri for the second phase of the championship. From Tuesday 18 to Thursday 20 May, 3 days of mark racing - with a total of 6 races scheduled, including the offshore - will be held to assign the title of ORC European Champion 2021.

The racing can be followed live with online Tracking. (click the link)

All information on the race, official announcements and results are available on the official website rolexcaprisailingweek.com