0 Farr 40 Worlds 2019
by

Team Racing-Yachts.com

08-10-2019
Your vote is:
0.00 of 0 votes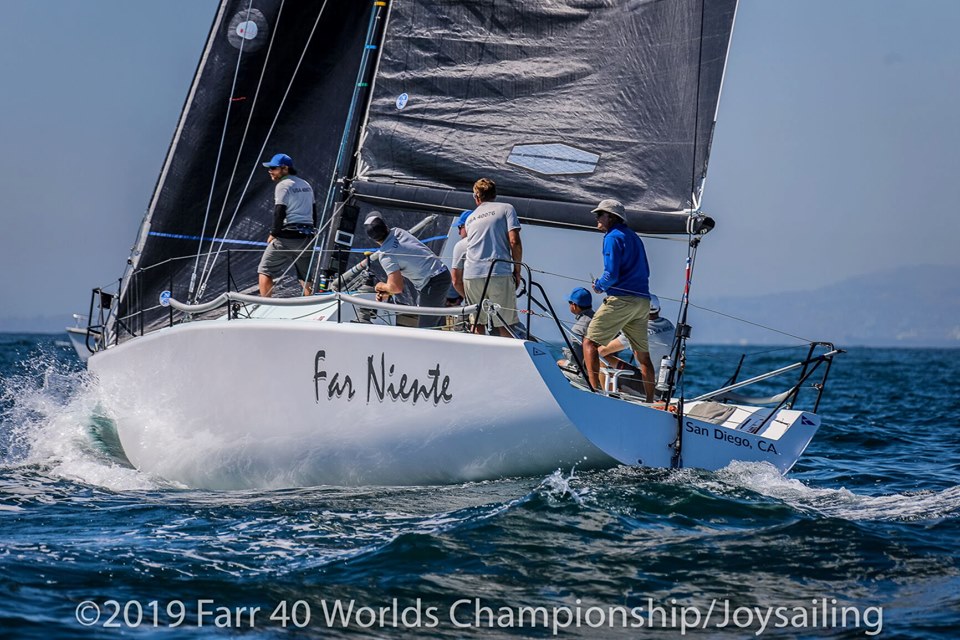 Farr 40 Worlds
While some may claim beginners luck, the first place team, Far Niente, of the 2019 Farr 40 World Championship earned their win with an amazing team and by going back to the fundamentals.
Brand new to the Farr 40 class, Vince Brun and Drew Freides, Far Niente co-owners, have only been sailing in the fleet for 10 days prior to taking the win in Long Beach, California this week from Wednesday, October 2 to Saturday, October 5, 2019.
Closely behind Far Niente was 2018 World Champion Wolfgang Schaefer's Struntje Light, finishing with 36 points, only three points behind Freides/Brun. In third was Jeff Carter's Edake with 41 points.
The regatta took place in the waters off Long Beach, generally south of Alamitos Bay Harbor. On Wednesday, the sailors embraced the 20 knot conditions. As the regatta carried on, the average breeze filled in at 10-12 knots daily.
While the scoresheet generally stayed pretty consistent, Friday's racing allowed for Far Niente to really pull ahead and claim their win. "We were on fire," Freides started. "Some of our closest competition struggled a bit, whether it was the kelp or just bad luck. We got off the line really well and controlled our own destiny."
Schaefer and his crew spent day three of the regatta struggling in the Southern California kelp, allowing Far Niente and several other boats to make their gains. Even with five bullets in their scoresheet, the conditions were not on their side.
Other noteable boats on the water were Rob Davis' Nutcracker, who came in fourth, and Rick Goebel's Insanity. Both teams were kept in the top of the fleet, taking several seconds, thirds and fourths. Goebel even took a bullet in race 7.
Jeff Carter, skipper of Edake and now two-time Corinthian World Champion, acknowledged the dedication and commitment of his crew from Australia and congratulated the Long Beach Yacht Club and Farr 40 Class for an amazing event.
Final results
1. Far Niente, Drew Freides / Vince Brun, USA, 33.0
2. Struntje Light, Wolfgang Schaefer, GER, 36.0
3. Edake (Corinthian), Jeff Carter, AUS, 41.0
4. Nutcracker (Corinthian), Rob Davis, AUS, 46.0
5. Insanity, Rick Goebel , USA, 49.0
6. Easy Tiger (Corinthian), Chris Way, USA, 60.0
7. Blade 2 (Corinthian), Mick Shlens, USA, 65.0
8. Skian Dhu (Corinthian), Martin Meerhoff, URU, 94.0
9. Dark Star (Corinthian) Farr 40 Steve Brown, USA, 98.0
10. White Knight (Corinthian), Zoltan Katinszky, USA, 112.0
11. Wild Thing (Corinthian), Yon Belausteguigoitia, MEX, 114.0
12. Foil (Corinthian) , Gordon Leon, USA, 129.0
13. Taurus (Corinthian), Barrington Darcy, GBR, 139.0
14. Katana (Corinthian), John Seit, USA, 149.0
more info:
FARR 40OD FOR SALE: